How to Repurpose Your Opus Bags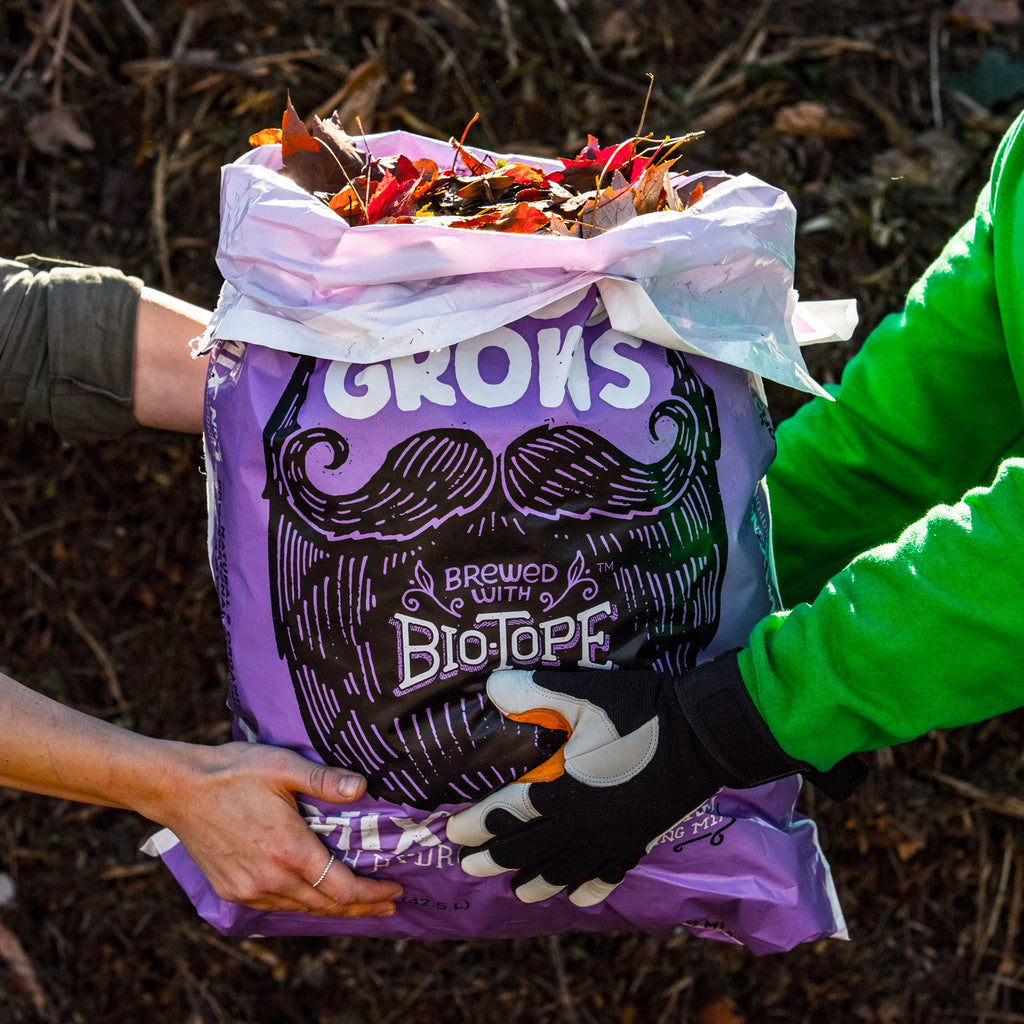 A lot of people ask us whether Opus Grows bags are recyclable, and unfortunately, the answer is no. Low-density polyethylene plastic (LDPE) is no longer accepted for recycling, which isn't ideal, but it's all the more reason to think about reusing your empty bags. (Remember that reusing is actually better for the environment than recycling, anyway.) Here are some ideas for how to do it:
Step 1: Cut the top off of your Opus bag.
Step 2: Fill it about one-third of the way with your favorite soil mix.
Step 3: Roll the sides of the bag down (like you're rolling up your sleeve, but upside down) and secure them in place.
Step 4: Plant something beautiful.
You can even double up your bags and turn them into hanging planters. You can (and should) also poke holes in the bottom for drainage.
Use It as a Collapsible Green Waste or Recycling Bin
Okay, most of us have recycling bins, but green waste? Maybe not. With fall on the horizon, you're going to need a sturdy place to stow yard debris like leaves and trimmings. Even if you reuse your Opus bag just once before you recycle it, you're saving resources.
Deconstruct & Reconstruct It as a Reusable Shopping Bag or Fashionable Tote
There are all kinds of ways that you can reshape and reinforce Opus bags before sewing on some straps and hitting the farmers' market. Get creative with it!
Create Row Covers to Prevent Frost Damage
Cut your Opus Grows bags into sheets and suspend them over your plants using a frame made from wood, metal, or plastic. Just be sure to remove them when temperatures rise or cut slits in the plastic to allow ventilation so that your plants don't cook under the midday sun.
For the Kids…
Hold a Sack Race
Looking for a way to keep the kids busy for hours? (Who isn't?) Set up start and finish lines, stick the kiddos (ages 5 and up, please) in your old Opus bags, and have them hop to it — just make sure that the grass is dry to prevent slips. Pro tip: Offer cookies as prizes.
Fashion a Slip 'n' Slide
A warm weather alternative to sack races: Create your own slip 'n' slide by cutting your Opus bags across the top and then lengthwise along the sides, so that they open up into long strips. Line them up end-to-end and place the hose at one end. Then run, leap, and slide!
Have you reused your Opus bags in a creative way? Let us know how!