13 Ideas for Your Thanksgiving Tablescape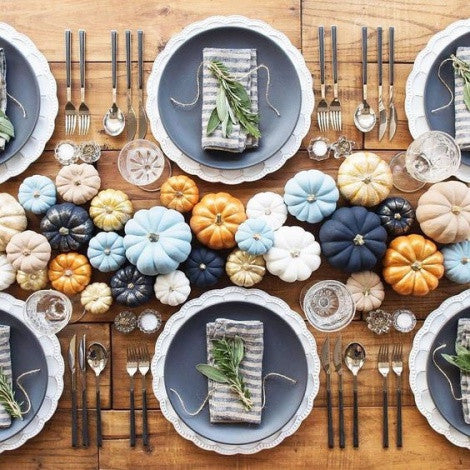 Thanksgiving is around the corner! And you're hosting. Do you have your menu all planned out? Regardless of your answer, it might be a good time to start prepping the set up. Soft lights and delightful color arrangements could do miracles for the overall success of your dinner party.
Here are some ideas to help you out, in case you need a little extra inspiration.
LET'S GET CRAFTY
This brown package-paper table cover doubles as a seating chart, and the artistic possibilities are endless - anywhere from flowing script and shabby chic to modern block and minimalistic. Combine with seasonal foliage and warm candles to create a wonderfully welcoming gathering place. Bonus: it costs a few dollars, but you can use the remainder for wrapping your Christmas presents, and you don't have to worry about any sloppy guests leaving their indelible mark on your fine table linens.
Decorate votives with dried straw, flowers, or herbs to create a rustic agrarian look. Keep the feeling going with mismatched vintage plates that can be cheaply sourced at a thrift store. As long as you pick sizes that are similar, the patterns are unimportant.
Give your flower arrangements a harvest twist by standing colorful dried corn cobs on end around your vase (non-tapering vases work best), looping twine several times on the top and bottom, and finishing with a bow.
AROMATHERAPY
Cinnamon sticks and evergreen sprigs tied to linen napkins make the simple act of wiping your mouth a treat. Check the evergreen springs for sap before placing them on your linens, though, as sap is tough to wash out. If you're struggling to find evergreens, rosemary sprigs would do just fine.
Simple and elegant - print or letter your guest's names on sturdy card stock, punch two small holes above for the herbs, and thread the ends through the holes. Rosemary is pictured here, but any fragrant herb will do. Gently strip the herbs from the ends of the stalk before threading through the paper by pinching them lightly between your finger and thumb, then pull in the opposite direction of the growth.
Don't have much room on the table for decor? Try hanging the herbs above the table for extra olfactory delight.
PUMPKINS, PUMPKINS, PUMPKINS
White pumpkins contrast red and gold berries on a vine in this lavish, Cinderella-ball-looking table setting. Keep the theme going with a complimentary table runner and napkins, understated china, and soft votive candles with a few berries around the base.
If you want to step away from the traditional fall colors, a little spray paint in a complementary palette of matte colors can transform an array of pumpkins into your preferred color scheme.
For truly understated elegance, this white palette with a backyard/country theme shines alongside any table setting. Your instagrammer friends will cherish you forever for this picture-perfect set up.
These uniquely colored pumpkins double as planters for a beautiful centerpiece, and the succulents will last longer than a cut flower arrangement.
Only have tiny gourds or limited table space, but still want the succulent look? Try this single plant and a twig with a few berries.
VIEW FROM ABOVE: TABLESCAPES
It's true that we eat with our eyes as well as our mouths, and this table provides a pop of color that promises mouth-watering goodness.
Tall tapers and abundant greenery show off the rich red autumnal Dahlias that provide a pop of color for this long table, perfect for big families or holiday parties.
For more seasonal decorating inspiration, check out our Pinterest. Happy Thanksgiving, may you and yours enjoy the time spent together!
Save
Save
Save
Save
Save
Save
Save
Save