Guide to an Alternative Thanksgiving Menu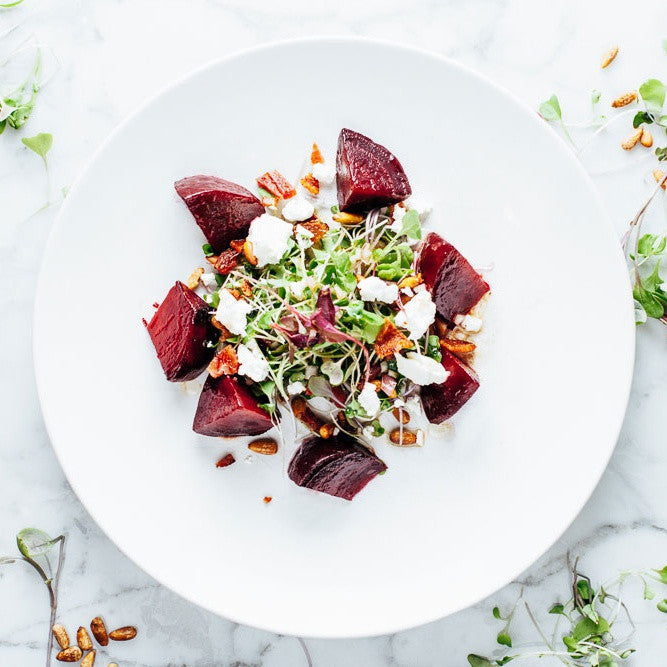 Whether you've recently taken over from your parents or offered to host the annual Friendsgiving feast for your friends in town, planning a Thanksgiving can be be a daunting task. You have to cook a multi-dish meal, go into a supermarket combat mode to secure the right ingredients, create a beautiful tablescape, and arrange the perfect seating chart that will prevent any potentially abrasive political conversations (do not skip this step, not this year!) While we can't help with any cantankerous  guests , we can give you a hand in  creating a new Thanksgiving menu that reflects more closely the care and consideration you put into the food you eat. The growing availability of local produce, vegan alternatives, and new options to grow your own food has made it possible to host the exact Thanksgiving dinner you want - be it local, vegan or homegrown.
Locavores Unite
It's relatively easy to eat local for a Thanksgiving meal, as many common items such as winter squash, brussels sprouts, potatoes, wild rice and cranberries are in season in many parts of the country during November. You can get specific to your area by checking the online State Specific Seasonal Produce Guide. With a bit of research you can even find locally raised turkeys; review these definitions to determine what kind you want. Using local ingredients is a great way to get to know independent farmers, flex your creative muscles in the kitchen, and discover new favorites that can become your traditional dishes moving forward.
Think Vegan
With it's proximity to harvest time, the Thanksgiving meal has always involved vegetables, but it can be a challenge to make a vegan meal hearty enough to satisfy your carnivorous guests. Here are 7 filling vegan options with the hallmarks of traditional Thanksgiving flavors.








Grow Your Own
Creating and serving a Thanksgiving feast is an accomplishment in itself, but just imagine the extra pride and satisfaction that comes from growing the ingredients you use. There are many vegetables and herbs that can be grown indoors, but we'll focus on 7 that can help make your Thanksgiving table shine.
Carrots
Growing:
Purchase carrot
seeds and a pot
or window box that's at least a foot and a half deep and wide. Plant seeds 2 inches apart  in Opus
Mix #3
then keep soil moist but not soaked. Place in a very bright area and expect seeds to germinate in about 2 weeks.
Microgreens
Growing:
You can get a head start with our
Light Box
, which includes seeds of five different microgreens types: Mustard, Radish, Arugula, Spinach, and Kale. With maturation of just 14 days, microgreens is the perfect crop to satisfy our cravings for instant gratification.
Potatoes
Growing:
Sprout from a cut potato in water, then plant in Opus
Mix #3
in the middle of a wide container about 6 inches deep. Water frequently and give plenty of sun.
Kale
Growing:
Kale is one of the easiest and most satisfying crops to grow. Plant in a pot at least 9 inches deep with Mix #1. Place in a partially sunny area that's slightly cool, then keep soil moist.
Rosemary
Growing:
Plant seeds (or
propagated cuttings) in a container with Opus
Mix #3
. Add one teaspoon of lime (the agricultural kind, not the citrus fruit), or ground coffee-beans per five-inches of pot to make the soil alkaline. Place the container in a sunny area of the home and water only when the top of the soil is dry to the touch.
Arugula
Growing:
Another fantastic crop for beginner gardeners! If you missed the season this year, make sure to give growing arugula greens a chance next year.
Mandarin Oranges
Growing:
Purchase a dwarf mandarin orange tree for the best chance of growing fruits
successfully indoors. Repot in Opus
Mix #3
, place in a sunny location (rotate the plant regularly to ensure even coverage) and water regularly, allowing the soil to dry out slightly between waterings.
While it may take a bit more effort to go the alternative route, it will be well worth it to known you put your best into creating a delicious meal you can stand behind. If you're looking for more ideas, check out our
pinterest board
of fall recipes. Remember, you'll be in the company of loving friends and family, and even if you mess up they will support you and (probably) still eat whatever you made! Then once it's all over you can relax and look forward to a Christmas you don't have to plan at all; it will be someone else's turn.
Save
Save
Save
Save
Save
Save
Save
Save
Save
Save
Save
Save
Save
Save
Save
Save
Save
Save
Save