10 Eco-Friendly Gifts for Plant Lovers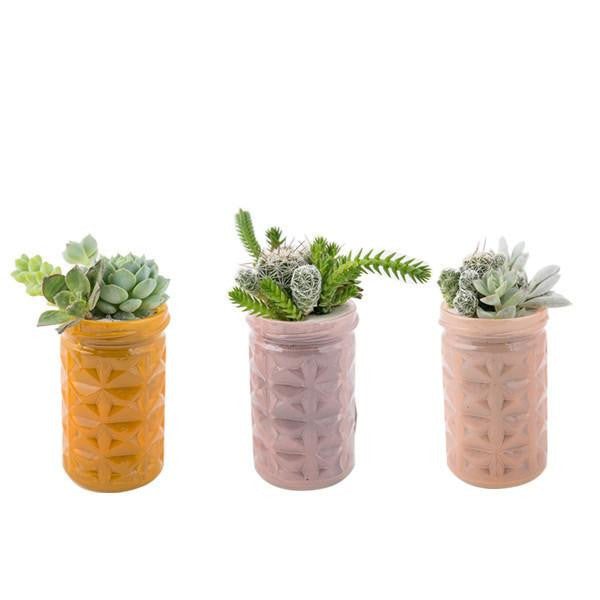 Shopping online for gifts is both a blessing and a curse - you're given so many options, yet it can easily become overwhelming when you're saturated with choices. How can you be sure the products you find have the quality, look, and business practices you're seeking? Plus there's the pressure of finding the perfect gift that will arrive before the holidays! That's why we're helping you narrow down your options with our list of 10 plant-related gifts. Each of our suggestions are quality products with a simple look created by conscious companies with sustainable practices and using organic ingredients.
Canadian Jenni Haikonen creates beautiful, delicate paintings that are influenced by her time growing up in the Saskatchewan prairie. In her shop you can find original and print watercolor paintings of botanicals, constellations, and holiday themed cards.
Handmade Sam Made is known for brass Himmeli, traditional Finnish ornaments that are suspended above the dinner table during the holiday season. The unique geometric shapes offer the perfect juxtaposition to the curves of an air plant or small potted succulent. You can also find darling enamel plant pins and air plants in the online shop. Each piece is designed by shop owner Samantha in her Seattle studio, using locally sourced materials that are built to last.
Simka Sol offers men's and women's hand illustrated and printed clothing items, ranging from t-shirts to sweaters, leggings, and dresses. Many prints are of natural subject matter, including several botanical themed prints such as cacti, ferns, and seed pods. All items are printed on organic USA milled fabric and printed with eco-friendly inks using sun-exposed screens.
Mountain Rose Herbs is an organic herb and spice supplier from our home base of Eugene, OR. They offer certified organic herbs, spices, and botanical products with Fair For Life certified sourcing. Fair For Life takes Fair Trade several steps further, reviewing Mountain Rose Herbs from top to bottom to evaluate and audit working conditions, labor practices, environmental programs, social benefits, and the company's transparency. If you get a bit overwhelmed by the abundance of items available, check out the "Bath and Body" section to find easy-to-use gifts.
Bambeco is your one-stop-shop for sustainable home goods. Every Bambeco product is designed to protect our planet and honor its people, and everything they do as a company is focused on three main causes: forest preservation and restoration, clean water and water conservation, and fair wages and safe workplaces. While there are many plant-lover products to choose from, we recommend this locally sourced Ohio barn wood succulent planter. The simple wood design would look perfect next to one of our Grow Real Light Boxes.
Give the gift of beauty and calm with Angelina Organic Skincare. Angelia creates small-batch organic facial care, bath, body and aromatherapy products with a focus on supporting small organic farms and Fair Trade cooperatives, working towards zero-waste production, and using eco-friendly packaging. They offer gift certificates and a variety of gift sets at multiple price points.
Help a plant-lover flex their growing muscles by gifting seeds from Seed Savers. Seed Savers works to conserve and promote America's culturally diverse, but endangered garden and food crop heritage for future generations by collecting, growing, and sharing heirloom seeds and plants. Gifting seeds is a more affordable way to give multiple plants, and with Seed Saver's there's the added bonus of promoting organic plants and helping to maintain plant diversity.
For the urban dwellers you know who are lucky enough to have rooftop access, gifting The Rooftop Growing Guide is a great way to inspire them to make use of that space. Written by Annie Novak, the head farmer and cofounder of the nation's first commercial green roof vegetable farm, this book includes best practices for raising vegetables, herbs, flowers, and trees.
Mother E strives to help people access the rejuvenating power of the natural world by providing high quality sustainably sourced essential oils. They offer single, blended, and collections of natural oils, plus the resources and education to help you choose the right product.
Check out Shop Pigment for beautifully simple organic gifts from local artists. Husband-and-wife duo Chad Anglin and Amy Paul run their shop out of San Diego, focusing on showcasing local artists and providing design savvy gifts, flora and furniture. Their online store offers various gifts at a wide range of prices, such as these cute Embossed Glass Votive Holders for only $3.25.
Save