8 DIY Alternatives To a Christmas Tree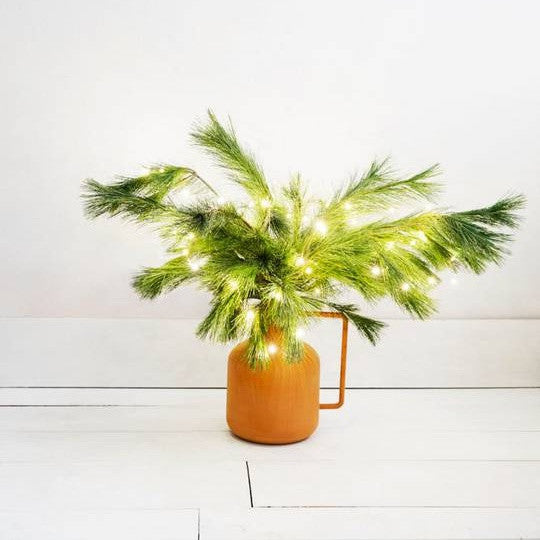 December 1st has come around and the holiday season has officially begun!

The anticipation is often the most exciting part (let's be honest): turning on the holiday tunes, pulling out the decorations, and decking the halls. But for those with walk-up apartments, small spaces, or minimalist style, full grown trees can be overwhelming! That's why we've pulled together a list of 8 simple, elegant alternatives to Christmas trees that still bring up the holiday delight.

With some skillful (but not complicated) shaping a string of lights on a board or directly on the wall can become your tree, which doubles up as a soft-glow ambient light chandelier.

If you're feeling extra energetic, cut an old pallet into a tree shape, or go the easy route by painting it white and covering it in lights. Prop against any wall with an electric outlet.

Washi tape, the best friend of many DIYers, can be used to create unique abstract tree shapes. With so many colors and patterns available, you're only limited by your own creativity... well and time. If you're anything like us there's a long list of DIY gifts and holiday cards that you need to get to before too long.

One of our favorites, not only because it involves a walk in the woods and a forage, but also because it's basically free! As little as three sticks can help you create the perfect minimalist tree that brings the comforting sense of nature to your home. You could also wrap the sticks with yarn or ribbon for a splash of color.

Go for a more complex design that can hold lights and traditional decorations by tying foraged branches with twine.

Cut pine garlands will give you the essence of a Christmas tree without any of the bulk.

Go for a modern and festive look with a large unique vase, fresh pine branches, and string lights or glass bulbs of one color (silver or gold always look beautiful). Make sure you place something heavy on the bottom of the vase, so the weight of the branches don't topple it over.
(Source)
Create your own mini tree with full pine branches in a vase decorated with your favorite ornaments. Corners are the perfect location of such decorations.
If all else fails, go for an abstract look and hang your ornaments on any available space. String lights, windows, doors, lamps and walls are all fair game. Just make sure to securely fasten them and avoid glass decorations that can easily break. No matter what form you choose for your tree, we hope you have fun bringing the holiday spirit into your home. 
Save
Save
Save